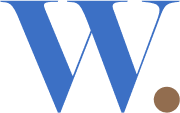 Client WealthSafe
Project type Homepage redesign
Industry Financial Services
Project Details & Goals
The brief for this project was to transform the way WealthSafe communicates their offer, so that viewers immediately see the benefit for themselves and their business. By reorganising the page to remove frictions from visitors' minds, JMarketing was able to vastly increase the conversion rate, and improve viewer experience.

"JMarketing has been a big part of our rapidly scaling our business online." - Warren Black, Founder


Our Strategy
JMarketing more than doubled the page's conversion rate by redesigning its look, feel & responsiveness. This improvement in lead generation means Wealthsafe's advertising will generate a higher ROI, and this will directly impact their bottom line.

JMarketing achieved a 146% conversion increase by:

> Creating a new, more visually appealing design
> Improving the responsiveness of the website
> Crafting a better call to action
> Constructing persuasion architecture of the page
373% Mobile Conversion Increase


In the case of mobile, the new page design converted nearly 4x better, probably because of the responsive design.

Time on site:
There wasn't a significant change to the bounce rate for the new design. However, the time on site increased with the new version, and this likely contributed to the higher conversion rate.
Old vs. New Design Comparison: Hero Section

We used the same headline for both designs, as it had been tested in many ads, and had consistently beat out all the controls.

Old Design

The old page uses photo of founder, and while that gives viewers an idea of who they're working with, it doesn't offer an immediate benefit.

Call to Action
The old page version offered 'New client free strategy session' as a call to action. This is problematic, as it raises (but doesn't answer) many questions in the prospect's mind, like: what will I get? Will they try to sell me on the call? Is this going to help me?


New Design

Hero Image
The aim here is to always highlight 'what will the viewer get' vs the usual 'what we do' approach of most websites. We choose a lifestyle image to speak directly to viewers' desires when they first see the page.

The headline uses gator case for improved legibility, and a serif font for the same reason. We employed less text in the opening section, featured a strong testimonial, and chose more appealing offers on the calls to action buttons.

Call to Action
Offering a 'savings calculator,' is a clear and obvious benefit, and more attractive to readers.

The second call to action button is: 'do I qualify.' This offers to give information in a way that creates less friction for the visitor. It asks for less of a commitment on the part of the prospect, and so is more likely to convert.
About Section: Old vs New


Old Site
The old site 'about us' section is a text heavy explanation. It's also paired with a complicated optin form which offers no clear benefit (we'll compare optin forms next.)

New Site
The new site 'about us' section features an explainer video. This is because one major form of friction is the concentration required to read text. People skim websites, they have multiple browser tabs open, and every year, attention spans are shrinking.

Playing a video is easier than reading, so users are more likely to take that action and absorb the information through a video.

Optin Form: Old vs. New


Old Site
The original optin form offers viewers a chance to book a 30 minute strategy call. The issue here is that there's no clear benefit. This offer assumes too much on the part of the visitor, who may know nothing about the company or their expertise.

It also raises many questions, friction points & anxieties. Who will I talk to? Will they try and hard sell me? What will I actually get for spending 30 minutes talking to a stranger?

New Site
In contrast, the new site's optin form has a clear benefit and simple call to action. Instead of asking visitors to commit to the high bar of a 30 minute phonecall, it asks for information they can easily supply.

It also offers the attractive benefit of finding out how much money they could possibly save off their annual tax bill. It's a low commitment offer, and thus far more likely to be taken up.

From this step, WealthSafe can educate subscribers and once they have developed a positive relationship, offer a strategy call.

This method is more successful, as the visitor has now become a warm lead who understands what WealthSafe can do for them, and how they can benefit from their services. They've developed trust and a respect for WealthSafe's expertise.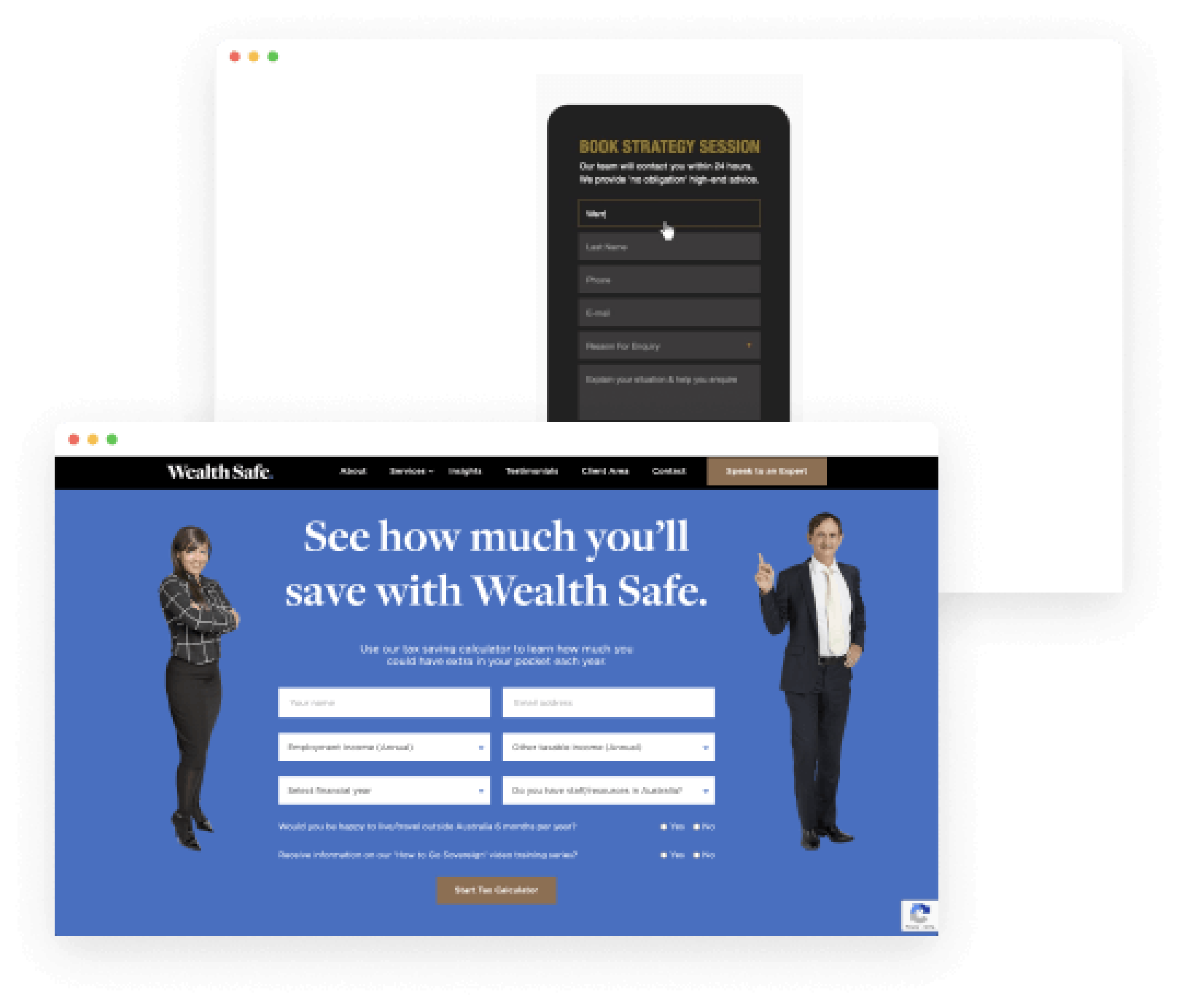 Our Process: Old vs New


Old Site
The old site featured a text heavy 'next steps' section. Many of the steps were technically correct, but featured no clear benefit to the prospect.

Eg. 'Financially modelling your situation.' (old version) vs. 'Full breakdown of tax saving potential' (new version)

New Site
The new site: reduces friction by walking viewers through exactly what happens when they engage Wealthsafe. Large headlines & bullet points make the information easily scannable.

Everything is positioned in terms of 'what you will get' vs 'what we do.'

The ease of reading this information has the subtle effect of creating an expectation in the viewers' mind that the process of working with Wealthsafe will also be easy and frictionless.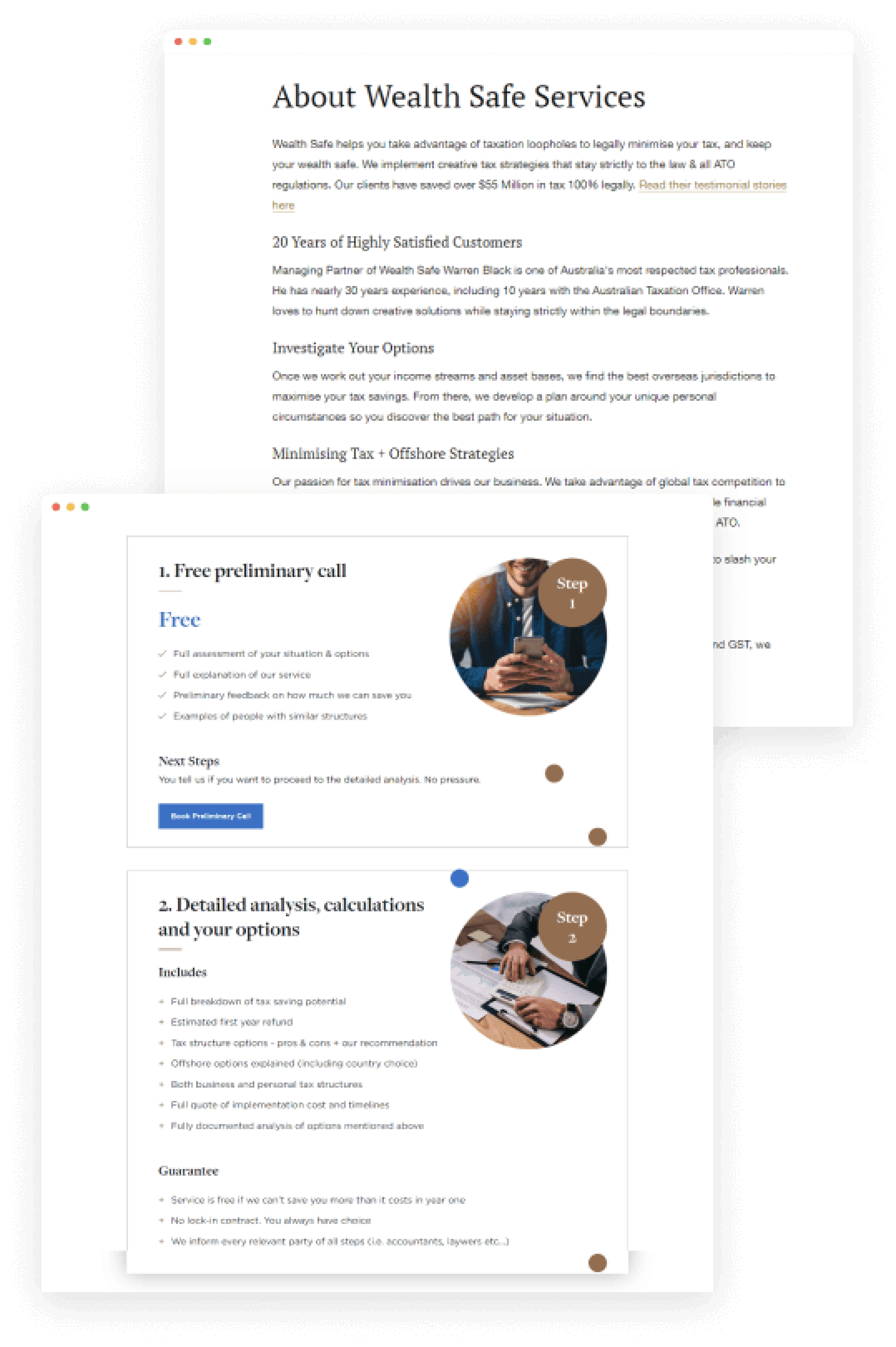 Testimonials: Old vs New


Old Site
The old site has testimonials that require a lot of work on the part of the reader. The text is dense, and goes the whole width of the page.

New Site
The testimonials on the new site are far more easy to scan. Large headers sum up the gist of the client statement. Viewers can scan the overall content, and dive deeper into the ones that interest them.
Final Call To Action: Old vs New


Old Site
The old site has a long and fairly complicated form, and the same offer: a 30 minute strategy session. This is a high commitment offer, and is asking the prospect to set aside a lot of legitimate concerns in order to take action.

New Site
The new site offers essentially the same thing, but in a far more appealing way. Viewers know right off what benefit they'll get if they give up their contact details and book a call.

Clear expectations are set, as well as a powerful potential for gain on the part of the prospect. This both increases the attractiveness of the offer, and reduces the friction that can prevent people from taking the offer.

"JMarketing more than doubled our conversion rate. This will improve our advertising ROI, lead flow, and revenue going forward." - Warren Black, Founder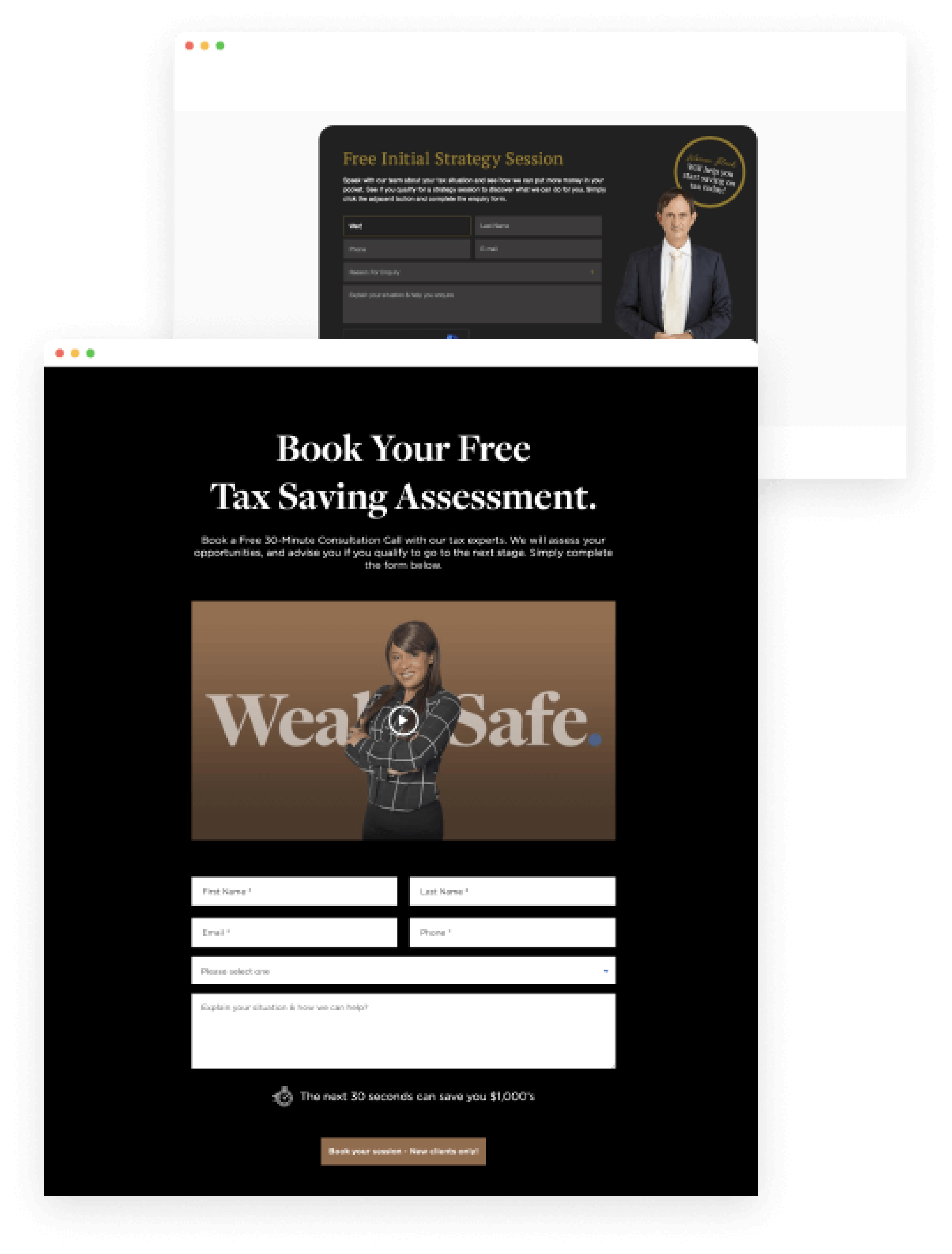 In every section of the page, we focused on:
- Reducing friction
- What the customer gets (not what the company does)

Little points of friction produce micro-decisions that add up to the person not taking action. It's an element that's often overlooked when writing high converting copy. Removing these small friction points is how we got a 146% improvement in optin rate.

In addition, we made the site scannable. We changed the design so it no longer relied on big blocks of text to get the important messages across.

Having a mobile responsive website also helped, as 28% of visitors to the landing page were on mobile. This is lower than the standard, and is likely because it's a B2B, rather than a B2C service.

"JMarketing are true innovators. They know customer psychology and what works online." - Warren Black, Founder

JMarketing are experts in creating high-converting webpages, particularly for companies who are looking to sell more complex products & services. For a free initial consultation, fill out the contact form at the bottom of the page. We'll go through your website, and offer some proven techniques for raising conversion rates and the overall effectiveness of your site.
Key Results
146% improvement in optin conversion rate
75% increase in time on site
373% improvement in mobile traffic optin conversion rate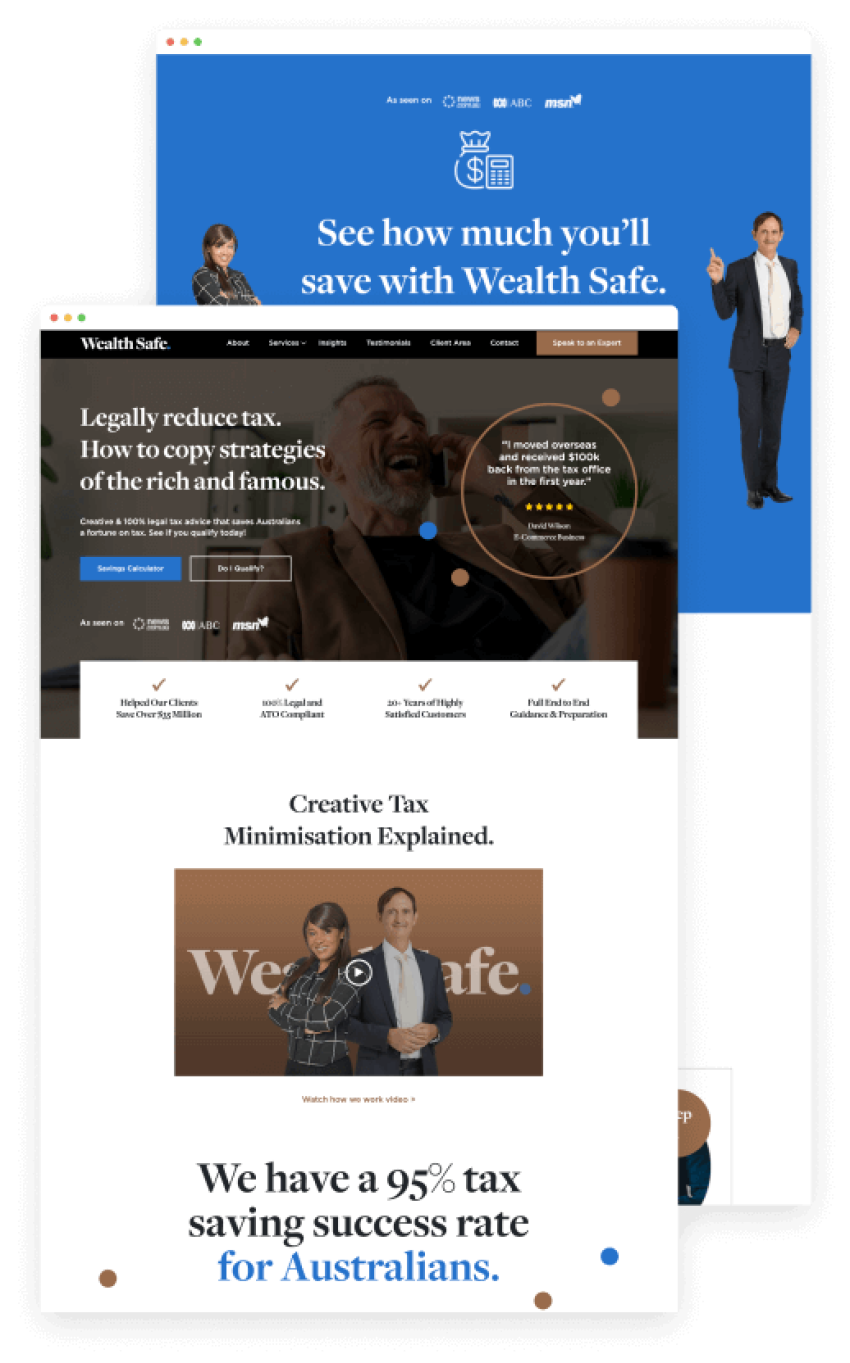 What WealthSafe Homepage Says
"JMarketing are true innovators. They know customer psychology and what works online."
Warren Black Wealthsafe Founder
AS SEEN, HEARD & READ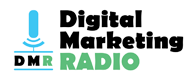 Work With Us &
Grow Your Business!
Arrange an obligation free consultation today. We'll look at your digital presence and provide you an honest appraisal of your opportunities to rapidly improve your digital marketing.