Leveraging Conversion Hierarchy to Supercharge Conversion Rates
Just because you have a website, doesn't automatically mean you'll get conversions! Your site must be attractive and persuasive so people want to buy from you. When a website is broken, difficult to figure out, or difficult to use, visitors will abandon your site in an instant.
A good way to check whether your site is accessible and ultimately conversion-friendly is by using the conversion pyramid. Developed by brothers Bryan & Jeffrey Eisenberg, this pyramid works very similar to Maslow's hierarchy of needs in that base needs need to be met before higher needs will be considered — a simple "if-then" argument. The conversion hierarchy pyramid forms an important part of most conversion rate optimization strategies.
To optimize using the pyramid, you have to ask the right questions in the right order. Analyze the answers of each step so you can implement measures to fix it before moving up.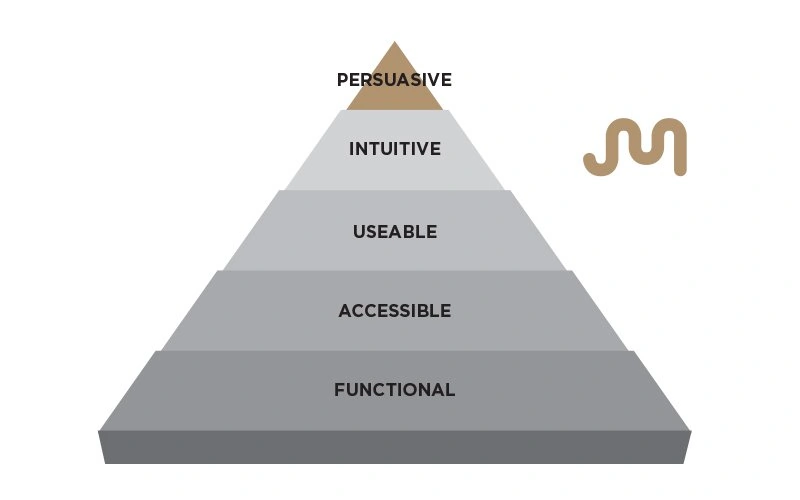 Starting at the bottom of the pyramid, these are the questions to ask:
1. Is it functional?
The first question to ask is whether your site is functional? Does it work and load properly? Are all the elements displayed correctly? Does it do what it's supposed to do? You can have the best copy and most amazing images and elements, but none of those matters if the site isn't working.
There are a couple of things to keep in mind when answering this question:
No bugs: Are there any errors on your site? A buggy site is extremely frustrating for users, to the degree that they would rather go somewhere else.
Works with every browser: Your website has to work on every browser and every device. Internet Explorer, Chrome, Firefox & Safari are the most used browsers, so it is essential that your website works and displays well on all of them, especially mobile.
Test browsers: To make sure your website works on most browsers, you have to test it. Keep in mind that the same browser can display differently on a PC or a Mac, a mobile phone and a tablet or various makes, shapes, and sizes. Test your website on as many as possible. There are tools like BrowserStack, DataDogHQ, and Ranorex that can help with this.
Quality assurance testing: Check everything on your website. If there are bugs, fix them, if an image isn't displaying correctly, fix it, if a link is broken, fix it.
2. Is it easily accessible?
How easy is it to use your site? Does it work on all devices — things like mobile phones, tablets, desktops, laptops? Does it cater to people with handicaps, such as the visually impaired? Does it require plug-ins that many people might not have on their browsers and/or devices? You need to make sure that everyone can use your site. Things like alt tags for images, larger font sizes, bigger contrast between buttons/text and background, are all helpful.
A great tool for developers to test a website's usability is the A11Y Project checklist.
3. How user-friendly is the site?
Can people use your website without having to think about it? Is the purchasing process easy, or do visitors need to figure it out? Is the language clear and understandable? Is it excessively large so it takes forever to load the page (especially on mobile)? Again, you can have the world's most persuasive copy and the most striking imagery, but if your site is difficult for people to use, they'll leave. Let someone not involved in the project use the website and see where they get stuck. Running usability tests also helps a great deal to pinpoint potential problems.
4. How intuitive (smart) is the site?
How easy is it to make a purchase/take the desired action? Does the website flow according to the natural thought process of the user to reach that end? Does it make sense? Does the site meet users' expectations? The focus here is to reduce friction in the conversion process by anticipating questions that visitors might have. A well-designed website flows in such a way that these questions are answered without the need for a dedicated FAQ page. If your site doesn't make sense, people will leave, quickly. Researching your target audience and doing testing is critical in this step.
5. Is the site persuasive enough to make visitors want to take action and/or purchase?
This is the fifth and final step and poses several questions. Does your website convince visitors that their needs are met or problems solved? Is there enough proof? Is the conversion process easy or are there points of friction? Here copy, images, and layout play an important part in calming fears and removing doubts. Things like testimonials, descriptions, demos, product comparisons, and tours are critical.
How much persuasion you need is determined by the nature of your product or service, as well as your target audience. The more complex and/or expensive a product or service is, the more persuasion it's going to take. Look at your target audience and create your site in such a way that it is persuasive to them.
For optimization to reach its full potential, it is critical that the steps in the conversion hierarchy pyramid be followed in order. Each step builds on the one below it, and if each step isn't taken care of before moving up to the next, the pyramid might tumble. When this happens, it means your site isn't optimized and you're losing out on potential revenue. Start from scratch, take your time, pay attention, and build a solid pyramid — it's one step closer to success.
Using the conversion hierarchy pyramid can be daunting. A conversion rate optimization agency can guide you through the steps, and help you formulate a conversion rate optimization strategy that will increase your conversion rate, and help you reach your business goals.
Take the short cut to digital marketing success. Contact JMarketing and discuss your options to increase your conversion rates, and immediately skyrocket your results. Click this link and complete the enquiry form, we will contact you back right away.
Please also remember to subscribe to our blog & share on social media.